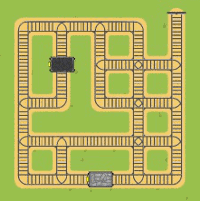 The next evolution of sliding puzzle games like Threes and 2048!
Combo Carts is a puzzle game all about moving mine carts. Carefully position carts full of treasure along a network of tracks. Combine carts with a swipe of your finger to create more awesome cargo. A new map is generated every time you play, so you'll need to change your strategy for every game. Fill up the track with high value carts to get the best score. Compete against your friends on the leaderboards to see who is the best!
Combo Carts Features
Deliciously juicy gameplay

Infinite replayability

New map generated every game

Compete against your friends via leaderboards

Easy to learn tutorial
History of Combo Carts
The idea for Combo Carts came about after the Bounder Team played a huge amount of 2048 while working on Armoured Engines. While looking at reference material for trains and train networks, an abstract map of a train track sparked the idea for a new take on the sliding tile combination game. The twist: the tiles can only be moved along tracks. It was too simple and elegant an idea to pass up, and a prototype was whipped up in just 2 days. Several hours were then lost as the team became hooked on the addictive puzzle score attack gameplay. The Bounder Games team decided to switch focus and develop Combo Carts into a full free to play release before moving back to Armoured Engines.